FirstEnergy Choice Federal Credit Union partners with TruStage® Insurance Agency, LLC to offer insurance products and programs designed for credit union members. Your membership means competitive rates, helpful guidance without sales pressure and quality products trusted by your Credit Union.
Insurances available through TruStage® include:
Auto

Home

Life

Accidental Death & Dismemberment (AD&D)
Regardless of your budget, TruStage® can help make sure the protection you need makes sense. It's all part of smart planning and caring about the aspirations and achievements of those who matter most.
Claim your free $1,000 Accidental Death & Dismemberment Insurance.
Contact TruStage® to obtain information about all of the insurance options so you can choose what is best for you and your family.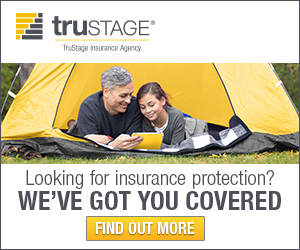 TruStage® Insurance products and programs are made available through TruStage Insurance Agency, LLC. Life insurance and AD&D insurance are issued by CMFG Life Insurance Company. Auto and Home Insurance Program are issued by leading insurance companies. The insurance offered is not a deposit, and is not federally insured, sold or guaranteed by FirstEnergy Choice Federal Credit Union.