As a member of FirstEnergy Choice Federal Credit Union, you have access to affordable financial products including low rate loans, diverse share savings with competitive rates, checking accounts, and convenient access to funds with Visa Debit Cards and Visa Credit Cards.

To learn more about our financial products simply scroll down the page.
SHARE (SAVINGS) ACCOUNT
The first step to membership is a minimum deposit of only $25. $25 must remain in your account at all times in order to continue your membership. Once you have a Share Account, members of your immediate family can take advantage of the benefits of FirstEnergy Choice FCU. Your Share Account will earn a dividend rate that will be credited to your account quarterly. Share accounts are governed by Regulation D, as are all depository institutions' share accounts. Contact the Credit Union for information and transfer limitations.
LOANS
Apply on-line for many of the loans listed below.
BONUS - Receive a 0.50% discount off the loan rate when loan payment is set up through direct deposit
VEHICLE LOAN (new and used) Term based on model year of vehicle (GAP Plus available on eligible vehicle loans)
SIGNATURE LOAN (unsecured personal loan) Up to 5 year term
HOME EQUITY LOAN (fixed rate, closed-end) Up to 15 year term - (NMLS Inst. ID #445451)
HOME EQUITY LOAN (fixed rate & variable rate Line of Credit) Up to 15 year term - (NMLS Inst. ID #445451)
SHARE SECURED LOAN (up to 5 year term)
SHARE CERTIFICATE LOAN
VISA CREDIT CARD
FirstEnergy Choice FCU offers a low rate 8.90% APR all the time on purchases, balance transfers, and cash advances. There is no annual fee and a 25-day grace period on purchases. Maximum Credit Limit is $10,000. Apply on-line for a new card or to increase your limit up to $10,000.

Earn

Rewards Bonus Points on every purchase. For every $1 you spend, you'll earn 1 point to redeem for merchandise, travel, and other rewards. View rewards and check your bonus points total at www.scorecardrewards.com. Some merchants offer more than 1 point per $1 purchase through the ScoreMore program. A listing of the ScoreMore merchants is available at www.scorecardrewards.com.

Pay your bill and manage your Visa account at eZCardInfo.com,

. 24 hours, 7 days a week for free.
You may also pay your bill with NO FEE over the phone by calling 1-800-433-0505 and using the Voice Response Unit (VRU). A $10 fee will be accessed for your phone payment, if you have to speak to a representative to complete the process.



protects your online Visa purchases by utilizing a personal password. Get reassurance that ONLY YOU can use your Visa card online. Sign up, today.

To report a lost or stolen Visa Credit Card: contact FirstEnergy Choice FCU during business hours at 1-888-462-2328 or 1-800-991-4961 after business hours.



Purchase Alerts
Get free email alerts from Visa for signature transactions in real-time for your Credit Union Visa Debit or Credit Cards and immediately identify potentially fraudulent activity. Verify your card eligibility and register your email at www.visa.com/purchasealerts, today. Customize transaction alerts to fit your needs when your Visa Card is used for purchases over a certain dollar amount, online, over the phone, or for outside the United States.
SHARE DRAFT (CHECKING) ACCOUNT
First Order of 50 Checks Free
No Minimum Balance Requirement
No Monthly Service Fees
Unlimited Check Writing
Monthly Statements
Visa Debit Card Availability
Please be sure you have FirstEnergy Choice FCU's correct Routing and Transit (ABA) number on your checks. The ABA number is 243381764 and appears on the bottom left of your checks.
VISA DEBIT CARD
Use your Visa Debit Card in place of a check. You can pay with your card quickly and conveniently at millions of merchant locations worldwide that accept Visa.
Your Visa Debit Card allows you to conduct up to 10 transactions per day. You may conduct a maximum of $1,000 per day signature-based purchases by selecting "Credit." You may conduct a maximum of $510 per day between ATM withdrawals and PIN-based purchases by selecting "Debit." There is a $1,000 per day maximum transaction total, of which no more than $510 may be ATM withdrawals and PIN-based "Debit" purchases. Your limits will reset each day (7 days a week) around 3PM (EST).
Access to over 56,000 surcharge-free ATMs is available to FirstEnergy Choice FCU Visa Debit Cardholders. View a listing of surcharge-free ATMs for withdrawals on the STAR network at http://www.star.com/loc/2L. Enter your corresponding zip code and click "GO." Then click "Filter Results" and select the box for "STAR surcharge-free ATMs." Additional surcharge-free ATMs are available on the Allpoint network at www.allpointnetwork.com.
Surcharge-free ATMs that also accept deposits can be found at http://www.star.com/loc/6D.
Withdrawals for purchase transactions are made from your share draft account and overdraft protection does not apply. If you need cash back, some STAR Point-of-Sale (POS) terminals allow cash back after your purchase. It's just like using one of the available 56,000 surcharge-free ATMs, as there are no transactions fees. Just select DEBIT/ATM on the store terminal when paying for the purchase and request cash back. The POS transactions will also be deducted directly from your checking account.
To report a lost or stolen Visa Debit Card contact the Credit Union during business hours at 1-888-462-2328 or 1-800-523-4175 after business hours.
Transactions processed using the Visa Debit Card may take up to 48 hours to update to your credit union account. This processing time also applies in reverse to Home Banking/Phone/Office transactions before they are updated to the Visa Debit Card system.

CHRISTMAS CLUB ACCOUNT
For convenient deposits, arrange for weekly, bi-weekly or monthly direct deposits. This account earns dividends that are credited to your account quarterly.
SHARE CERTIFICATES
FirstEnergy Choice FCU offers Share Certificate's (CD's) with varying terms and competitive rates. Interest is credited monthly.
IRA ACCOUNTS
No matter what your age, now is the time to start planning for your financial future. An Individual Retirement Account can help you build for your retirement today through a tax-deferred savings plan. FirstEnergy Choice FCU Federal Credit Union offers both Traditional IRAs and Roth IRAs. You may open an IRA Share (Savings) Account or an IRA Certificate (CD).
STUDENT LOANS
The Smart Option Student Loan® for FirstEnergy Choice FCU by Sallie Mae®
For borrowers attending degree-granting institutions.

Now you can pay for college the smart way with three great repayment options and competitive interest rates!

This loan is an ideal solution to help you pay for college expenses not covered by scholarships and federal loans.
To learn more or to apply, please get started here.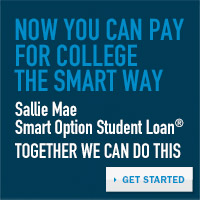 The Smart Option Student Loan features and benefits:
Multiple in-school repayment options plus a choice of competitive fixed and variable interest rates provides even more flexibility
No origination fees and no prepayment penalty
Rewards and interest rate reductions available
Rates that reward creditworthy borrowers
Applying with a creditworthy cosigner may help you qualify
100% US-based Student Loan Specialists
To learn more, please get started
here
.
Investing in higher education continues to be one of the best decisions you can make and we want to help make it happen. Find resources for navigating the college application process, learn more about the Smart Option Student Loan, and apply online at
https://www.salliemae.com/smartoption/fechoice
.
FirstEnergy Choice FCU is compensated for the referral of Smart Option Student Loan customers.
Don't forget to click on our "Services" tab.